Attend this Seminar and learn to read the Bible effectively!
If you find reading the Bible difficult or frustrating at times, then this seminar is for you. Six concise and informative sessions are delivered in a friendly, comfortable environment. They are aimed at equipping you with the skills and determination to understand scriptural doctrines for yourself and to benefit from a new appreciation of the Bible. Whether you are familiar with the Bible or are new to reading it, you will walk away with loads of information and new energy to begin reading more effectively.
Here's what you will learn ...
Who wrote the Bible and where it came from.
How to get past the sometimes difficult language used in the Bible.
3 tips to letting the Bible interpret itself.
How to remove the "mystery" from the Bible.
How to use cross references.
How to learn more in less time with effective study tools.
How to read carefully (ex. Adam and Eve didn't eat an apple).
How to overcome boredom when reading.
Why there are 4 gospels.
Prove for yourself the Bible is not a work of fiction.
When an understanding of Greek and Hebrew can help and why it isn't essential.
What the title Christ means ... and loads of other definitions.
How science is reconciled with the Scriptures.
What happens at death.
Why quoting a single Scripture is dangerous (how to keep passages in context).
Who the Jews are and why they are so important in the Bible.
Why the Bible is intentionally difficult to understand and how it can be simplified.
How so many interpretations of the Bible developed.
When and how to gain an understanding of the book of Revelation.
Why God allows so much suffering and wickedness.
How critics of the Bible "prove" their criticism.
Why there are differences between Bible versions.
Why there is an Old Testament and a New Testament.
How the Bible deals with the age-old question: Is man good or evil?
How to use a concordance and a lexicon.
A simple Bible reading plan to get you through the Bible in a year.
| October 17 | October 24 | October 31 | November 7 | November 14 | November 21 |
| --- | --- | --- | --- | --- | --- |
| Introduction | Why 2 Testaments? | Study Tools Part 1 | Critics of the Bible | Mystery? | Life and Death |
| Background of the Bible | The Role of Prophesy | Overview of the Books of the Bible Part 3 | The Purpose of God Revealed | Terminology Part 3 | Overview of the Books of the Bible Part 6 |
| The Bible Interprets Itself | Tips on Reading | Terminology Part 2 | Overview of the Books of the Bible Part 4 | Overview of the Books of the Bible Part 5 | Good vs. Evil |
| Overview of the Books of the Bible Part 1 | Overview of the Books of the Bible Part 2 | Using Cross References | Study Tools Part 2 | The Jews and the Law of Moses | Terminology Part 4 |
| Why the Bible Is Difficult to Read | Terminology Part 1 | | Versions of the Bible | | Conclusion |
9 Reasons why you should attend ...
No obligation. No one will attempt to "convert" or "save" you.
FREE. You will never be asked for money, to purchase materials or to make donations of any kind.
Make your Bible study more productive with less time. You will understand more and know where to look to keep it moving at an enjoyable pace.
If you claim to believe in God, you are obligated to understand God's purpose for man for yourself, not what someone else says. Jesus himself said "Have ye not read ...?"
No one will ever call you on the phone or contact you in person.
Take advantage of a legitimate opportunity to break free from your TV, phone or computer. Enjoy time with your family, spouse or friend learning about the Bible in a friendly and relaxed environment.
Quit at any time. If you ever find the program inadequate you may quit with no strings attached.
Learn and fine-tune skills that will allow you to read the Bible with a better understanding than before. Many people desire to learn but initial frustration discourages and hinders progress.
PLUS ...
Everyone attending receives extensive free materials including a workbook of notes the presenters used in the sessions. The handouts will also allow you to review material at your own pace between classes.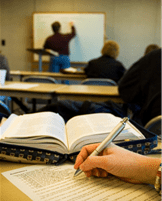 Register for the 6-Week Seminar
More information about the Seminar...
Dress & Preparation
Dress comfortably and be sure to bring a Bible if you have one. Everything else is provided, including refreshments, at the seminar. No advance preparation is needed.
About the Presenters
Our presenters are experienced Bible teachers in group settings. They maintain a commitment to regular Bible studies and efforts to increase Bible understanding. Their shared love of the Bible and their warm and personable manner is blended with a lively and enjoyable presentation style.
About the Christadelphians
Christadelphians adopted their name in the mid 1800s. It means "Brothers in Christ." Christadelphians are found in countries all over the world. They are bound together by a common faith in the Gospel preached by Christ and his apostles in the first century. Christadelphians do not believe that any of their members, past or present, have received any special revelation direct from God. The Christadelphian faith rests squarely and solely on the Bible as the inspired Word of God.
Questions Others Have Asked ...
Q. What if everyone there knows more than I do?
A. The classes are paced in such a way as to make everyone feel comfortable. No one is ever put "on the spot." Teaching segments are alternated between assumed knowledge and those who have no knowledge of the Scriptures.
Q. Why are you doing this?
A. Scarcely is the Bible read in today's fast paced lifestyles. Our faith and belief in God motivates us to expound His message and Truth. We believe the Bible and what it teaches is right and good in directing our lives and families. In Christ's day, the apostles spread the Gospel message and the commandments of God. We also feel compelled to make
known to all who would listen to the wonderful plan God has for the earth.
Q. Who is paying for the seminars?
A. An extremely important question, as very few things are free. All expenses are being absorbed by the Christadelphians in this area. No financial expectations will ever be expressed to you now or in the future.
Q. Will I be asked to be "saved" or "join" the Christadelphians at the end of the seminar?
A. No! You will not be pressured during or at the completion of the classes. Our hope is that the classes will encourage you to draw your own conclusions about God and His plan. The purpose of these classes is to equip you with the necessary tools to make your own decisions about what you have read and learned.